Solid Brass Main Tubes
Solid Brass Main Tubes for Crosman 2240, 2250 and 2260.

2240 series is the 2300 line as well.

2250 series is the 2400 line as well.

Pumpers (1322 1377) maybe coming soon.

Optionally available are solid brass caps at either end (the piercing stem up front and the hammer cover in the rear).

Optionally available are the internals, too (valve, hammer, spring, etc).

These tubes support the Hidden Screw Breech for complete interchangeability.
Smooth, Unmarked 2260 Main Tubes
Crosman has discontinued the 2260, so parts are getting pretty hard to find. Here's my 2260 tube.





Smooth, Polished 2260 Main Tube
Brass Bolt Handles
Solid brass bolt handles that fit the steel breeches for Crosman 2240 2250 2260 1377 1322 362 Drifter P1377 P1322, etc.
Plastic breeches typically have one-piece bolts. This listing only works if your handle unthreads from the bolt probe itself.
SOLID BRASS GRIPS
Well, the madman did it. He made them.

If you're ready to spend big money on something literally no one else has, then the Brass Grips are for you. The price is out of my control. Brass is rirdiculously expensive right now.

These things are heavy. Be prepared for that. Crack a nut with the butt of your pistol.

Available as Plain, Fluted or Checkered. See the photos. Don't have any Fluted pics of the brass or alum yet, but you can look at the Wood Grips for pics of Fluted. Checkered are, by far, my favorite though.

You can have these powder coated if you want, but polished brass is as sexy as it gets so I'd leave them as-is.

Fits the standard pistol frame. 2240 2250 1377 1322 P1377 P1322 Marauder Pistol, countless others.

Mild machining marks may remain. If that bothers you, feel free to bust out the sandpaper.

Related Kits: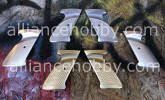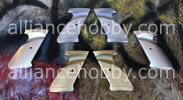 Plain Aluminum (outer), Checkered Aluminum (top), Checkered Brass (bottom)
Solid Brass Trigger Shoes
1377 / 1322 Metal Barrel Bands
For 1377 1322 P1377 P1322
For years, one of my most popular requests has been a metal barrel band for the pumper line.

These bands fit the 10" OEM-length barrels as found on the 1377 and 1322.

If you have a 2289 / Drifter -or- if you're adding a longer barrel to a 1377 / 1322, you want the 2289 Metal Band.

These 13xx bands are available with, or without, the front sight post.

If you're electing not to use the front sight post, you should have a red dot, scope or similar installed. There is no exposed hole if you select no front sight post.

A steel breech (or anything other than the plastic breech) is highly recommended for rigidity's sake.

Available in aluminum and brass. Brass photos coming soon, but you can get an idea of what they look like here.
Checkered
Wood Grips + Slim Forearm
Walnut, Oak, Maple, Mahogany, Hickory, Purple Heart, Cherry, Poplar, Pine

Left two are Walnut | Right two are Mahogany

Red oak trigger grips, walnut forearm.
More photos of more species are coming

GO TO FULL PAGE HERE.
Fluted Wood Grips + Fatty Forearm
Walnut, Oak, Maple, Mahogany, Hickory, Purple Heart, Cherry, Poplar, Pine
For the Crosman 2240, 2250, 2300S, 2300T, 2300KT, 2400KT, 1322, 1377,P1322, P1377, SSP 250, Marauder Pistol and others with the standard pistol frame.
Related Kits:
Now made right here in Ohio (no more Chinese knockoffs), I have gorgeous pistol grips and a new and improved Fatty Forearm.
As before, the grips themselves are compatible with the standard Crosman trigger frame. So they'll fit the 2240, 2250 (2250 forearm coming soon), 2300S, 2300T, 1377, 1322, P1377, P1322, Marauder Pistol, and many others.
The Fatty Forearm fits the 1377 / 1322 / P1377 / P1322 and 2289.
The grips are available with, or without, the thumb depression and the finger flutes. The Fatty is available with, or without, the flutes. Other designs on the way, too. Tell me what you want to see.
As mentioned before, these are natural wood with varying grain patterns. No two grips will be the same (the milling is the same, they're the exact same shape, but the grains and shades will vary).
Currently available species:
Trigger Grips: Mahogany, Hickory, Purple Heart, Cherry, Walnut, Ambrosia Maple, Pine, Red Oak, Poplar
Fatty: Hickory, Walnut, Cherry, Pine, Red Oak, Poplar
I am no longer staining these. It is up to the buyer to finish these off however they like. This may change in the future.
| | |
| --- | --- |
| Pine | Cheap, light-colored, sort of plain with an open grain, but easy to work. Sands to a pretty result. Has a stigma associated with it, because "um, it's pine" but I do like it. |
| Poplar | A bit darker and heavier than Pine with an attractive grain. Machines well to an excellent finish. |
| Red Oak | Heavy and tightly grained. A pleasure to machine and finish. I couldn't believe how attractive my grips came out. |
| Cedar | Very pretty end result, but way too light and fragile. I made the one pair down in the photos, and it's for sale, but I probably won't make any others unless I get a specific request. It's up to you guys. |
| Mahogany | Tightly grained with a gorgeous, rich brown finish. Name is always associated with luxury. |
| Hickory | Heavy with a beautiful pattern. It may be my personal favorite. |
| Purple Heart | Wildly flamboyant and attractive. Yes, it really is that purple. Google around for other woodworking projects made with it. |
| Cherry | Lighter colors with a beautiful grain pattern. |
| Walnut | Dark and handsome. Like me. |
| Ambrosia Maple | A light colored wood with striking dark contrast. Seems difficult to sand without woolies (fuzziness). I need to practice more with this species. But, it's very, very pretty. |
| Maple | Similar to Cherry. Photos coming soon. |
GO TO FULL PAGE HERE.
SOLID ALUMINUM GRIPS
I don't even know what to say here except holy crap are these awesome.

Machined from solid chunks of plate, I present to you the coolest thing you will ever do to your gun.

Heavy. Beefy. Solid. Like me (not really, I weigh like 165 lbs).

You're allergic to plastic. I get it. You can do wood, but you're special. You're high speed and you want heads to turn.

You want what no one else has. What no other seller offers.

You need these.

Available as bare aluminum (photos coming) for you to finish however you want, or powder coated to any of my available colors.

The photos below are Silver Vein. The colors in the dropdown are what I suggest. Certain powders lay nicer than others. Certain powders are thicker and hide machining marks and fingerprints better than others. I'll have more photos of more colors available as time allows. E-mail me if you want suggestions on colors. I use Eastwood HotCoat powders. You can look at samples on their site for ideas. My Portfolio has some examples, too.

Fits the standard pistol frame. 2240 2250 1377 1322 P1377 P1322 Marauder Pistol, countless others.
2289 Metal Barrel Bands
For Crosman Drifter / 2289 and 1322 1377 P1322 P1377 with longer barrels
For years, one of my most popular requests has been a metal barrel band for the pumper line.

The 2289 bands (metal or plastic) are required if you are adding a longer barrel to your 1322 or 1377 (wherein you're basically building a 2289).

Your 1322 / 1377 comes with a 10" barrel. Anything longer and you need a 2289 band.

If you want one without the set screw holes, or have another idea, email me.
1077 Streamlined 90g AirSource Kit
Powerlet Conversion Kit

Here is a product that has been too long in the making and took dozens of requests for me to finally get around making it.
My powerlet to paintball tank adapters were the first products I ever sold and while they work great, the coiled remote line is bulky and there's no good way to fasten them to the guns themselves. You always have to drag the tank around with you.
I've always left it up to the buyer to figure that part out.
For a brief time I sold something called the Hard Mount C, but it was never really reliable enough for resale. Too many connections, too many points of failure.
This listing, what I want to call something clever like the Angle Boy Kit, has the fewest points of failure I can figure out and looks the cleanest by far.
It is also still a work in progress with continual improvements being made. I have more ideas for bigger tanks and different mounting points. I hope to have ideas cobbled together soon for the 2240, 2250 and 2260, too.
INCLUDES
Standard 1077 Adapter
Stainless Steel Braided Hose
In-Line Tank Mount
AirSource Thread Converter
One 90g Cylinder
PROS
Very clean look
No permanent modifications / holes needed to gun
Can revert back to bone-stock in minutes
Hundreds of shots per fill
Slightly more powerful velocity
Can rotate tank out of the way to change mags
CONS
No ability to disconnect without firing the gun until empty
Once the AirSource is installed, it must stay connected. If you unscrew it, you risk freezing o-rings and you'll waste the tank
There is no on/off valve. I may figure something out in the future, but it won't look as clean as what's in the photos
IDEAS / CONSIDERATIONS
On/Off Valve somewhere?
Velcro strip under forearm instead of screwing into stock?
Shorter braided hose?
Spacer between stock and in-line mount to utilize 9oz / 12oz CO2 cylinders.
The Master Class Kit
For Crosman 2240 2250 1322 1377 P1322 P1377
I have designed the Master Class Kit to include the most sought after upgrades on both the CO2 guns and the Pumper guns. This is the kit to buy if you want to quickly and easily upgrade a bone-stock Crosman to an accurate, powerful pellet gun.

The kit includes:

On the CO2 guns, you will receive the Power Pack Plus as the power mods. That's the power valve, power spring, bored out bushing.

On the pumper guns, you'll receive the Flat Man's Kit, which is the Flat Top Valve / Piston, power spring, bored out bushing.

And a longer barrel of your choice.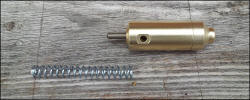 Two Stage Trigger and Power Pack Plus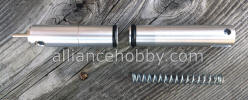 Flat Man's Pack and Steel Breech (both calibers available)
The Little Boy Kit
Longer Barrel + Band Only for Crosman 1322 1377 P1322 P1377
I have offered, for a few years now, what I call the Big Boy Kit. That kit is designed to upgrade your Crosman pumper to a longer barrel, and includes extras like a fancier roll pin replacement and front sight.
It can be found here. That kit is expensive. Not everyone wants the extras.
Some people just want their longer barrel and the 2289 barrel band. They don't mind reusing the OEM roll pin and they don't want, or need, a front sight. If that's you, then you want this kit. The Little Boy.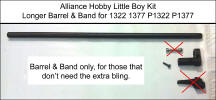 You can swap calibers with this kit, though you'll need a matching bolt, optionally available.
The OEM length on a Crosman pumper is 10". Here, you can have any length up to 26".
18", 24" and 26" are standard on .177.
14", 18", 24" and 26" are standard on .22.
Any other length will be cut and recrowned.
Note: You may have a set screw dimple on the barrel I send you. This is because the longer barrels we use here are for other models. You must be okay with said small dimple. 18" and longer in .177 will have a 1" flat spot that Crosman uses as a band fastening spot. Email me if you need pics.
Diana Chaser Powerlet to Paintball Tank Adapter
for Pistol or Rifle
My first, and flagship, product has always been my Crosman 22xx series Powerlet Adapter systems. Well, Diana recently debuted their Chaser, which is set up pretty similarly to a Crosman 2240. I've had several requests for an adapter system for it, so I went out, bought a Chaser and designed what you see below.
If you want the full details on the Adapter system and what it does for you, please see www.alliancehobby.com/adapters.
Below, you can order just the adapter, the adapter + 90° elbow or a Complete Rig, which includes coiled hose and paintball tank of your choice.
You can also buy a 90g AirSource kit which comes with a pre-filled cylinder. The paintball tanks must be filled upon arrival.
I will say this: The 90g pre-filled cylinders normally work fine and are great for buyers that can't easily fill CO2 tanks, but they include an extra thread adapter, which means they include an extra potential point of failure (leaks). And, with the 90g cylinders, once a leak starts, it's hard to stop them, wasting an entire cylinder. They're also more expensive from the get-go. For more details, email me. So, if you can, always choose a refillable paintball tank. They're cheaper to operate and more reliable.