Metallic Red Aluminum Grips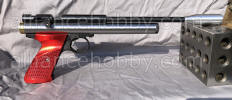 Modified Crosman 362 Metal Trigger Frame
Also for 2260, Discovery & Maximus
The Crosman 362 comes with the 2260 trigger pack with an upgraded metal frame (the little trigger cover is still plastic though (maybe changing summer 2023, we'll see)).

While this is nice from a rigidity standpoint, it does not come from the factory with the two holes drilled and tapped for use with my Adjustable Brass Trigger.

Well, it does now. I drill and tap the holes here in the shop.
Brass, Aluminum & Steel Globe Rings





Aluminum & Brass
Last week, messed around and got
The Triple Double Steel Breech

THREE set screws for the barrel, TWO set screws for the breech and the normal ONE rear bolt cover screw.
The Crosman 362+
Alliance Hobby's take on the venerable 362.

Solid Brass Main Tubes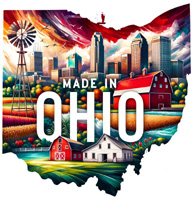 Solid Brass Main Tubes for Crosman 2240, 2250 and 2260.

2240 series is the 2300 line as well.

2250 series is the 2400 line as well.

Pumpers (1322 1377) maybe coming soon.

Optionally available are solid brass caps at either end (the piercing stem up front and the hammer cover in the rear).

Optionally available are the internals, too (valve, hammer, spring, etc).

These tubes support the Hidden Screw Breech for complete interchangeability.
Smooth, Unmarked 2260 Main Tubes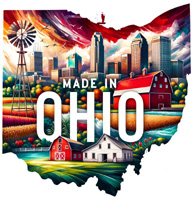 Crosman has discontinued the 2260, so parts are getting pretty hard to find. Here's my 2260 tube.





Smooth, Polished 2260 Main Tube
Brass Bolt Handles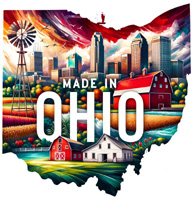 Solid brass bolt handles that fit the steel breeches for Crosman 2240 2250 2260 1377 1322 362 Drifter P1377 P1322, etc.
Plastic breeches typically have one-piece bolts. This listing only works if your handle unthreads from the bolt probe itself.
SOLID BRASS GRIPS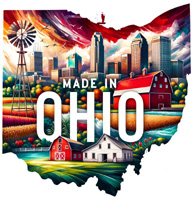 Well, the madman did it. He made them.

If you're ready to spend big money on something literally no one else has, then the Brass Grips are for you. The price is out of my control. Brass is rirdiculously expensive right now.

These things are heavy. Be prepared for that. Crack a nut with the butt of your pistol.

Available as Plain, Fluted or Checkered. See the photos. Don't have any Fluted pics of the brass or alum yet, but you can look at the Wood Grips for pics of Fluted. Checkered are, by far, my favorite though.

You can have these powder coated if you want, but polished brass is as sexy as it gets so I'd leave them as-is.

Fits the standard pistol frame. 2240 2250 1377 1322 P1377 P1322 Marauder Pistol, countless others.

Mild machining marks may remain. If that bothers you, feel free to bust out the sandpaper.

Related Kits: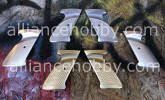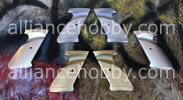 Plain Aluminum (outer), Checkered Aluminum (top), Checkered Brass (bottom)
Solid Brass Trigger Shoes
1377 / 1322 Metal Barrel Bands
For 1377 1322 P1377 P1322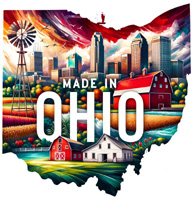 For years, one of my most popular requests has been a metal barrel band for the pumper line.

These bands fit the 10" OEM-length barrels as found on the 1377 and 1322.

If you have a 2289 / Drifter -or- if you're adding a longer barrel to a 1377 / 1322, you want the 2289 Metal Band.

These 13xx bands are available with, or without, the front sight post.

If you're electing not to use the front sight post, you should have a red dot, scope or similar installed. There is no exposed hole if you select no front sight post.

A steel breech (or anything other than the plastic breech) is highly recommended for rigidity's sake.

Available in aluminum and brass. Brass photos coming soon, but you can get an idea of what they look like here.
Checkered
Wood Grips + Slim Forearm
Walnut, Oak, Maple, Mahogany, Hickory, Purple Heart, Cherry, Poplar, Pine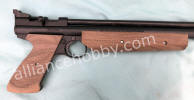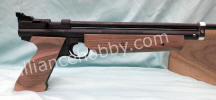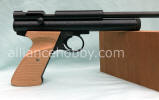 Left two are Walnut | Right two are Mahogany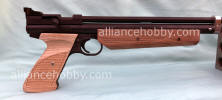 Red oak trigger grips, walnut forearm.
More photos of more species are coming

GO TO FULL PAGE HERE.
Fluted Wood Grips + Fatty Forearm
Walnut, Oak, Maple, Mahogany, Hickory, Purple Heart, Cherry, Poplar, Pine
For the Crosman 2240, 2250, 2300S, 2300T, 2300KT, 2400KT, 1322, 1377,P1322, P1377, SSP 250, Marauder Pistol and others with the standard pistol frame.
Related Kits: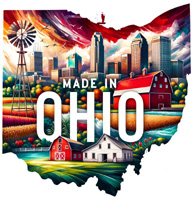 Now made right here in Ohio (no more Chinese knockoffs), I have gorgeous pistol grips and a new and improved Fatty Forearm.
As before, the grips themselves are compatible with the standard Crosman trigger frame. So they'll fit the 2240, 2250 (2250 forearm coming soon), 2300S, 2300T, 1377, 1322, P1377, P1322, Marauder Pistol, and many others.
The Fatty Forearm fits the 1377 / 1322 / P1377 / P1322 and 2289.
The grips are available with, or without, the thumb depression and the finger flutes. The Fatty is available with, or without, the flutes. Other designs on the way, too. Tell me what you want to see.
As mentioned before, these are natural wood with varying grain patterns. No two grips will be the same (the milling is the same, they're the exact same shape, but the grains and shades will vary).
Currently available species:
Trigger Grips: Mahogany, Hickory, Purple Heart, Cherry, Walnut, Ambrosia Maple, Pine, Red Oak, Poplar
Fatty: Hickory, Walnut, Cherry, Pine, Red Oak, Poplar
I am no longer staining these. It is up to the buyer to finish these off however they like. This may change in the future.
| | |
| --- | --- |
| Pine | Cheap, light-colored, sort of plain with an open grain, but easy to work. Sands to a pretty result. Has a stigma associated with it, because "um, it's pine" but I do like it. |
| Poplar | A bit darker and heavier than Pine with an attractive grain. Machines well to an excellent finish. |
| Red Oak | Heavy and tightly grained. A pleasure to machine and finish. I couldn't believe how attractive my grips came out. |
| Cedar | Very pretty end result, but way too light and fragile. I made the one pair down in the photos, and it's for sale, but I probably won't make any others unless I get a specific request. It's up to you guys. |
| Mahogany | Tightly grained with a gorgeous, rich brown finish. Name is always associated with luxury. |
| Hickory | Heavy with a beautiful pattern. It may be my personal favorite. |
| Purple Heart | Wildly flamboyant and attractive. Yes, it really is that purple. Google around for other woodworking projects made with it. |
| Cherry | Lighter colors with a beautiful grain pattern. |
| Walnut | Dark and handsome. Like me. |
| Ambrosia Maple | A light colored wood with striking dark contrast. Seems difficult to sand without woolies (fuzziness). I need to practice more with this species. But, it's very, very pretty. |
| Maple | Similar to Cherry. Photos coming soon. |
GO TO FULL PAGE HERE.
SOLID ALUMINUM GRIPS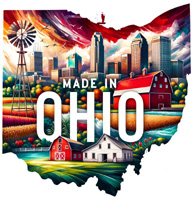 I don't even know what to say here except holy crap are these awesome.

Machined from solid chunks of plate, I present to you the coolest thing you will ever do to your gun.

Heavy. Beefy. Solid. Like me (not really, I weigh like 165 lbs).

You're allergic to plastic. I get it. You can do wood, but you're special. You're high speed and you want heads to turn.

You want what no one else has. What no other seller offers.

You need these.

Available as bare aluminum (photos coming) for you to finish however you want, or powder coated to any of my available colors.

The photos below are Silver Vein. The colors in the dropdown are what I suggest. Certain powders lay nicer than others. Certain powders are thicker and hide machining marks and fingerprints better than others. I'll have more photos of more colors available as time allows. E-mail me if you want suggestions on colors. I use Eastwood HotCoat powders. You can look at samples on their site for ideas. My Portfolio has some examples, too.

Fits the standard pistol frame. 2240 2250 1377 1322 P1377 P1322 Marauder Pistol, countless others.
2289 Metal Barrel Bands
For Crosman Drifter / 2289 and 1322 1377 P1322 P1377 with longer barrels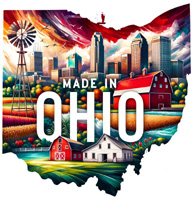 For years, one of my most popular requests has been a metal barrel band for the pumper line.

The 2289 bands (metal or plastic) are required if you are adding a longer barrel to your 1322 or 1377 (wherein you're basically building a 2289).

Your 1322 / 1377 comes with a 10" barrel. Anything longer and you need a 2289 band.

If you want one without the set screw holes, or have another idea, email me.