For years, one of my most popular requests has been a metal barrel band for the pumper line.

These bands fit the 10" OEM-length barrels as found on the 1377 and 1322.

If you have a 2289 / Drifter -or- if you're adding a longer barrel to a 1377 / 1322, you want the 2289 Metal Band.

These 13xx bands are available with, or without, the front sight post.

If you're electing not to use the front sight post, you should have a red dot, scope or similar installed. There is no exposed hole if you select no front sight post.

A steel breech (or anything other than the plastic breech) is highly recommended for rigidity's sake.

Available in aluminum and brass. Brass photos coming soon, but you can get an idea of what they look like here.

Related Kits

The stainless steel roll pin, shoulder bolts and clevis pins are an optional purchase. Otherwise, you'll reuse your existing roll pin.

A brass shoulder bolt is also available. There are no brass roll or clevis pins, though.

If you want an all-brass kit, choose the brass band and brass shoulder bolt.




Older design, but shows my Red Stardust powder, for reference.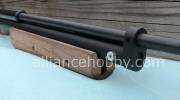 Older design, but shows Flat Black powder on a Smoothed Main Tube and band, for reference.





New style available. Click here.