This listing features a very cool upgrade consisting of a Stainless Steel or solid Brass Shoulder Bolt + Anchor Nut to upgrade your current roll pin on your Crosman pumper.

The major advantage of this upgrade is that never again will you need to drive out and press back in your roll pin. Remove it this final time and toss it! From now on, remove this bolt in about 10 seconds with a wrech.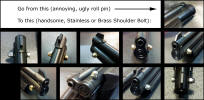 The mod consists of driving your current pin out, slightly enlarging the pin hole (by about two thousandths), inserting the bolt and tightening the nut.
Kit includes: Shoulder Bolt & Nut of your choice, drill bit and hex wrench.
You will need: Cordless or bench drill and small wrench (or pliers).