Related Kits
Q: What is this adapter you're talking about?
A: Alliance's paintball tank conversion system allows you to move away from expensive and short lived 12g CO2 Powerlets and start shooting from dirt cheap, refillable paintball tanks (88g AirSource cylinders can be used in areas without CO2 fill stations).
You'll shoot cheaper, you'll shoot faster (from the larger reservoir) and you'll shoot better (with a more consistent velocity).
This was the first product I ever sold and it's gone through numerous improvements through the years. They're easy to use, reliable and quickly maintained using normal hand tools.
I have sold thousands of these, each one hand built. Four different states have made bulk purchases of my adapters and use them in their shooting education programs and at their state fairs.
---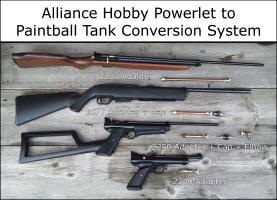 Q: How does it work?
A: It's very simple. Currently, you remove your gun's end cap (aka Piercing Stem) and insert a Powerlet. As you tighten the Piercing Stem, your Powerlet is pierced and you can shoot until that Powerlet is empty (anywhere from 20 to 40 shots, depending on gun).
With my adapter, you discard your Powerlets AND Piercing Stem and install my modified end cap and internal adapter. You connect a paintball tank, via hose, to the adapter and simply start shooting. A 9oz paintball tank (the smallest readily available) is good for 800 to 1000 shots. The 24oz tank, the largest "paintball" tank, is good for 2000+ pellets.
---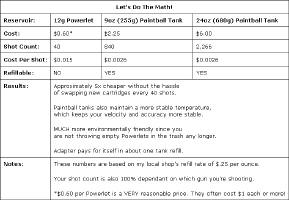 Q: You say it's modular now?
A: That's right. My adapters used to be made PER GUN. Your 1077 adapter was good only in your 1077. 2240 adapter good only in the 2240, etc.
Now, you buy one end cap and can use it in any of the current Crosman CO2 models (listed above). You only need one internal adapter per model.
So, if you love the 22xx product line, and own the 2240, 2250 and 2260, you need ONE cap, and can buy an internal adapter for each, any or all of your guns. Swap out as you see fit!
---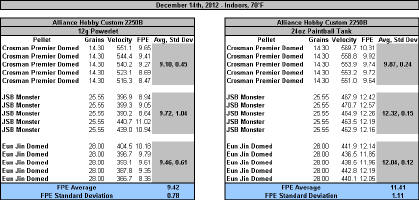 Q: I only have one gun. What do I need?
A: You need the end cap and one internal adapter. That's available from the first Add To Cart button, below. You will ALSO need a hose and paintball tank. Amazon is a great place to buy these two parts, or I can bundle them together for you.
Q: I have two/three/four guns. What do I need?
A: You only need one end cap, but one tube per model. You can buy as many caps as you want, but only one is required.
---
Q: I have a 2300 or 2400 Series gun. Which adapter do I need?
A: For the 2300, you need the 2240 adapter. For the 2400, you need the 2250 adapter. They are the same gas tubes, respectively.
---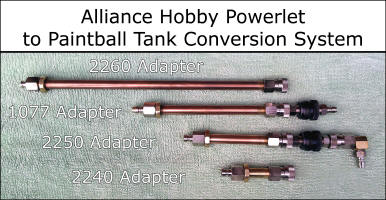 Q: Benefits?
A: Shooting from paintball tanks is dirt cheap. The adapter is paid for after around 1000 shots (which is a day's shooting for some people).
The kit is environmentally friendly. Throwing Powerlets away is wasteful and harsh on the environment. There is literally no waste with my kit.
You will shoot longer, faster and better. No kidding.
Longer? No more loss of concentration as you stop after a few shots to swap out Powerlets. You will literally shoot all day (or all month) without changing tanks.
Faster? Although physics and gas theory say otherwise (an article for some other time), the numbers don't lie. Simply shooting from a paintball tank will yield 10% to 20% higher velocity than from Powerlets.
Better? CO2 is notoriously unreliable when it comes to velocity (especially in winter). So your accuracy suffers when you zero in the first ten pellets and then the second ten shoot 20% slower and thus, lower. Shooting from a paintball tank will keep your variances to an absolute minimum.
---
Q: What's with the optional 90° elbow?
A: The optional 90 degree elbow allows your remote line to hang down freely from the adapter. Otherwise, it leads out towards the muzzle. The elbow is completely optional, but highly recommended. However, it is almost required on the 2240 since the stock barrel is so short. Failure to use the elbow could allow a pellet to strike the hose.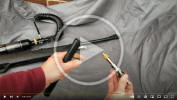 Video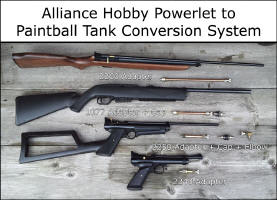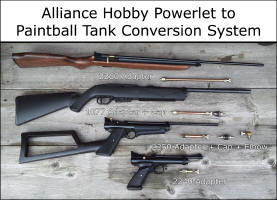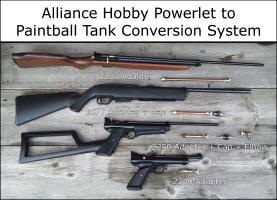 Low Resolution | Medium Resolution | High Quality Resolution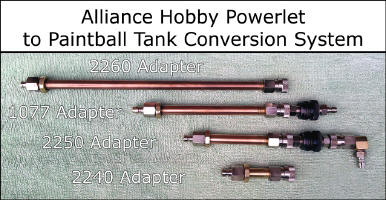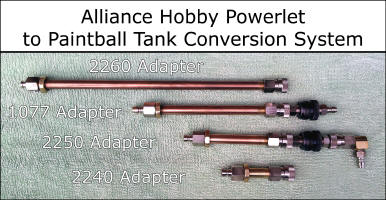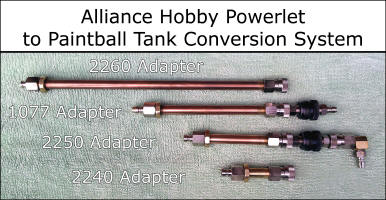 Low Resolution | Medium Resolution | High Quality Resolution





Installed on a 2240 | On a 2260 | 1077 | 1077 with 88g Cylinder