For the last 12+ years, I've been modifying and selling Crosman barrels. Since COVID especially, this has been an experiment in patience and humility, to say the least.

Sometimes I'm fully stocked with all the lengths in all the calibers, sometimes I have almost nothing.

Barrels are available CLEAN, 10", 12", 14", 18", 24", Cut To Any Length or as part of the Upper Deck Kit, Big Boy Kit, Master Class Kit.

COMPATIBILITY
The guns that I primarily support (2240 2250 2260 1322 1377 2289 362 Drifter 2300 Series 2400 Series) all use the same base product. This means that you can shove them in whatever breech you have and they'll fit and shoot.
For the most part, they're completely interchangeable. One gotcha is the length. For instance, a 2240 barrel will fit on a 2260, but you don't want a 7.5" barrel on a rifle. But, it will fit and shoot.
Another gotcha is the standard length pumper barrels (1377 1322) have a rabbet around the muzzle that tucks into the OEM barrel band.
These 13xx barrels will fit a CO2 gun like a 2240, but the front sight won't fit well, and often requires gluing. The plastic front sight on these guns utlize a machined flat spot on the muzzle to friction fit onto the barrel.
Installing longer barrels on a 1377 1322 also requires a 2289 barrel band that does not have the hold stop for the 10" barrel.
FLAT SPOTS DIMPLES AND OTHER THINGS YOU WISH SNAPCHAT FILTERS COULD FIX
While the barrels are mostly interchangeable, you'll have to put up with set screw dimples, weird flat spots machined halfway up the barrel and other oddities.
I'd say about 90% of customers don't care what or where these things are. They're just happy to have a longer barrel. If you need to know specifics about what I have in stock RIGHT NOW, email me.
CLEAN BARRELS
I used to be able to get 26" barrels that didn't have a single machined anything, anywhere. Those are discontinued.
Now I can get 21" barrels that have ONLY the flat spot for the front sight. No dimples and normally good bluing. Worded another way, I have 20.5" barrels that ARE perfectly clean, tip to tail. (If you don't get the joke, I cut and recrown that last half inch).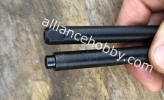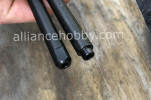 Machined flat spot for plastic sight friction fit (top and left) vs the rabbetted muzzle for the 1377/1322 (bottom and right)
---



24" barrels showing set screw dimple.
---




Photos of the oddball Discovery barrels that can used when nothing else is available.



Photos of the oddball Discovery barrels that can used when nothing else is available.