The Alliance Hobby Big Boy Kit
The quick, easy and complete barrel upgrade for 1322, 1377, P1322 or P1377.
Everyone wants a longer barrel on their pumper, but unlike the CO2 guns it's *not* just a barrel swap.

You need the longer barrel, the 2289 band kit and front sight. And you have to press out the roll pin up front.

Pressing it out is much easier than pressing it in, so I've included a shoulder bolt upgrade that makes the entire job easy peasey.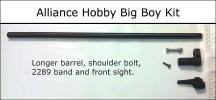 Left photo shows you what you get, right photo shows you
what it looks like (doesn't show the shoulder bolt, though).
Related Kits