I have several types of plastic grips available.
The standard Black, the 1377-style Brown, the Marauder Pistol "B" Logo and the Silhouette-style Crosman Logo.
Also have the P1322 and P1377 style, too.
All are brand new, all are plastic and NONE are wood.
All grips will fit the 2240, 2250, 1322, 1377, 2289, etc.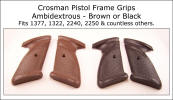 Old Style Black (brown discontinued), "B" Logo and Silhouette Target