Aluminum Flat Top Valve & Piston Kit
For Crosman 1322 1377 2289 P1322 P1377
MAY 2021 UPDATE: The piston now features two o-rings for better compression. Looks a lot more professional, too.
MAY 2021 UPDATE x2: A solid brass piston is now available. It's fancier. It's heavier. It's bling that only you know is inside...?
APRIL 2023 UPDATE: Crosman 362 Flat Man's Pack now available.
APRIL 2023 UPDATE x2: Adjustable Pistons now available.
The Flat Top upgrades are immensely popular with Crosman pumper enthusiasts. The idea is that by giving the gun a larger air reservoir, you can do more work per pump, resulting in the same shot velocity with FEWER pumps. Or, increase velocity with the same number of pumps over OEM.
You can buy just the Flat Top Valve, just the Piston or the Complete Kit.
Note that you should not install just a Flat Piston with an OEM valve. The gun won't cock completely and will be useless.
You can, however, install just the Valve.
But the smart move is to install the complete kit.
Want even more mods? Consider the Flat Man's Pack, which is the Flat Top Kit + Power Spring + Max Flow Bushing.
The Flat Top Valve is an OEM Crosman valve that has been heavily modified.
First, we put it on the mill and angle the exhaust so the escaping air doesn't have to make a hard 90° exit.
After that, we straighten up the exhaust hole with a nice six-fluted bit.
Then, we flatten the face to allow more air to be pressurized per pump.
Finally, we remove as many machining marks as we can to make a perfectly smooth exterior.
And, of course, the valve is cleaned and polished prior to reassembly with BRAND NEW o-rings.
This is the Flat Top Piston. It is 7075 aluminum milled from scratch. A solid brass version is available, too.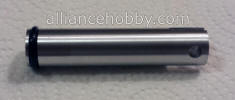 This is the older single o-ring style. All shipments will feature double o-ring pistons as shown below.
And here is the complete kit.
Here is the kit with the brass piston.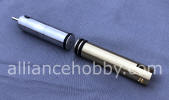 Brass Piston
Related:
While you can buy the valve-only and piston-only individually, they're not designed to be used with competitor's products, nor will they work with non-flat parts.

The Flat Valve won't work with an OEM Piston and vise versa. But, they are available, if you have a specific project you want to accomplish.