This is a true two stage trigger system for the Crosman 2240, 2250, 2300 series, 2400 series, 1377, 1322, P1377, P1322 and 2289.

It is also technically compatible with the 2260, though you will not be able to use the wood rifle stock.

This is actually the Marauder Pistol Trigger Kit with modifications performed for compatibility with the models listed above.

The kit is now compatible with all breeches. Plastic, Steel, "Hidden Screw" Steel and Aluminum. However, I will need to know exactly which gun you're installing this on, so I know which striker to send. Each model requires a different striker.
Hidden screw strikers are compatible with normal breeches.
Normal strikers are NOT compatible with hidden screw strikers.
A 2240 2250 2260 will take a Plastic / Steel Breech / CO2 Tube option.
The 2240XL is a "hidden screw" and requires the correct hammer.
A P1322 P1377 1322 1377 2289 will take a Plastic / Steel Breech / Pumper Tube option.
A 2300KT 2400KT or 22xx with aftermarket Hidden Screw Steel Breech will take the Hidden Screw / CO2 Tube option.
VERY RARE is the Hidden Screw / Pumper Tube option. That takes a fully modded gun that no one other than myself (that I know of) performs.
So, if you're unsure what you have, just order the Hidden Screw, but pumpers almost never have it.
You can check by looking at the photos below and comparing to your gun.
For CO2 guns, if in doubt, buy the Hidden Screw option.
The kit is adjustable in three places: Two set screws at the back of the trigger itself and then the linkage via the brass screw below the sear.

You will receive one trigger frame, as pictured, plus one applicable striker.
Install Directions: http://alliancehobby.com/files/two.stage.pdf
Related Kit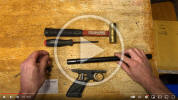 Photos on the right show the kit plus 22xx striker and 13xx striker.



These photos show the "hidden screw" breech.
If you have one of these, you need and will receive, a notched hammer.