I offer more options on the steel breeches than I think any other seller.

Problem is, which one do you buy?

There are four permutations.
Mounting Screw Location (visibility under bolt)
Number of Barrel Set Screws
Number of Bolt Screws
Breech Length
Any combination is available.
MOUNTING SCREW LOCATION
First and foremost is the front mounting screw location.
There are two (now, three) options. The names here are specific to Alliance Hobby. Pictures are worth 1000 words, so here you go.
The first, more common, but not necessarily better option, is the "Normal Screw" Breech. As you can see in the photo, the hole is farther towards the front of the gun.
The less common, but arguably better, option is the Hidden Screw. This location is farther back, completely hidden under the bolt. The advantage is that the pellet doesn't get hemmed up in the divot hole.
The disadvantage is it's not as interchangeable. Namely, it won't work on the pumper guns (1377 1322 2289 Drifter) without major modifications. It will work on, afaik, all CO2 guns.
The newest option is BOTH holes, for maximum hold down power. While the breeches will fit, and work, on pumper guns, you can only use BOTH holes on CO2 guns. Unless you modify your pumper tube yourself.

NUMBER OF SET SCREWS
The next option is number of set screws. The manufacturer includes one barrel set screw. I add up to two more for a total of three on the long breeches and two total on the shorties.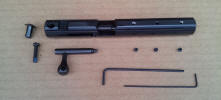 NUMBER OF BOLT SCREWS
Two hold down screws under the bolt. Explained above and fully explained here.

BREECH LENGTH
The last option is breech length. They're offered in normal (long), short and super short options.

RELATED KITS