Q: Does it have dovetails for mounting a scope?
A: Yes!

Q: Where is the front screw location?
A: It's in the normal "front location" for maximum compatibility with all Crosman models.

Q: This is amazing. Do you have it in left-hand?
A: Yep!

Q: Both calibers are available?
A: Yes, to change between .177 and .22 is only a matter of swapping bolts (though only one bolt is included per sale).

Q: Will the one-piece brass bolts found on the plastic breeches work?
A: No, you need a two-piece bolt.

Q: Will your stainless steel bolt work?
A: Yes!

Q: I know you do powder coating. Can this be powdered?
A: Yes, at an additional charge. Email me.

This breech has several notable differences from the Crosman Steel Breech Kit:

Advantage: Supports the standard rear sight, which is included. Also supports scopes and other 11mm mounts.
Disadvantage: Does not support the Crosman LPA MIM sight.

Advantage: Two set screws to hold the barrel in place (vs one screw on the Crosman kit).

Advantage: Lightweight aluminum with a much smoother finish than the Crosman steel bluing.

Disadvantage: Does NOT come with the small plug that covers the bolt opening on the back.
This is the cover that would sit above the hammer cover.
Note that the Crosman plug will NOT fit without significantly grinding it down.

To give you an idea of how awesome these look, here are some photos of the Left Hand breech. The Right Hand is the same thing, just with the bolt on the right side.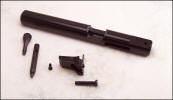 For reference, these show the Left Hand breech.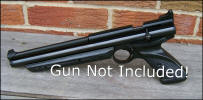 For reference, these show the Left Hand breech.
RELATED KITS