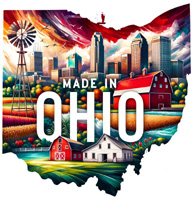 The standard front sight has always been able to accommodate Globe Rings. There are two small rails on either side that the ring slides onto. This is the sight that ships on the default 2240, 2250 and 2260.

NEW APRIL 2023: NOW OFFERING FIBER OPTIC + GLOBE RING SIGHTS.
This was never possible before because the fiber sight doesn't have the rails. I cut the rails myself now, so the globes will fit. It's a different width, so the slit on the globes is different, too.
So, if you have a globe ring already, it will NOT fit the fiber sights.
As such, the fiber + globe offering is sold as a kit only.
You can buy just the globe ring for the standard sight, though.
The sights fit all the standard 7/16" barrels (22xx, 13xx, etc).
If you have a 10" pumper (1377 1322 P1377 P1322), this kit will not fit unless you install a longer barrel, which also requires the 2289 barrel band. See the Big Boy Kit.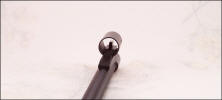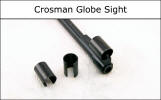 Standard Sight - Blued Steel Globe Ring





Standard Sight - Aluminum & Brass






Standard Sight - Aluminum & Brass





Fiber Optic Sight + Aluminum Globe Ring