The Flat Man's Pack contains Pumper's Pack and the Flat Top Valve Kit.

MAY 2021 UPDATE: The piston now features two o-rings for better compression. Looks a lot more professional, too.

MAY 2021 UPDATE x2: A solid brass piston is now available. It's fancier. It's heavier. It's bling that only you know is inside...?

APRIL 2023 UPDATE: Crosman 362 Flat Man's Pack now available.

APRIL 2023 UPDATE x2: Adjustable Pistons now available.

So, the entire kit is the:
Power Hammer Spring (part of the Pumper's Pack)
Max Flow Exhaust Bushing (the other half of the Pumper's Pack)
It is my complete performance kit for the Crosman pumpers available at a discounted price versus buying the parts individually.





Brass pistons are now available!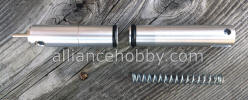 For reference, this is the older single o-ring style.
Related: