Jump To Disco 3-Screw
Jump To Hidden Screw 3-Screw
The Crosman Steel Breech is a hugely popular modification, however its biggest disappointment is the fact that it only has one set screw for the barrel. Most of us that produce aftermarket breeches machine two set screws to securely hold that barrel in place.
Alliance Hobby is proud to present another exclusive product. This is a Crosman Steel Breech Kit with THREE set screws. Two would have looked funky with the OEM screw placement, so we went with three. That barrel is going NOWHERE.
You have your option of .177 cal, .22 cal or Multi Cal (both bolt calibers included so you can swap as you see fit).
You will receive everything in the photo PLUS three stainless set screws that are chrome-like and shiny. The barrel & sight are not included and shown for illustrative purposes only.
---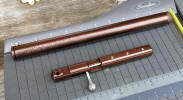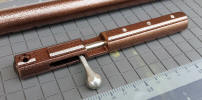 Here is a Copper Vein 3-Screw Steel Breech mod, with Stainless Steel Bolt.
These are optional upgrades. What you will receive normally is displayed in the top photos.
In the background is a Copper Vein 2250 Main Tube.

---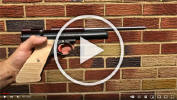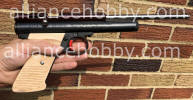 This is Metallic Red Stardust. Both the shoe and the steel breech are the same powder, but since the base color of the breech is darker, the end result is darker, too.
RELATED KITS