Convert your Crosman 362 to .177 with this simple kit. Features a 24" .177 barrel and .177 bolt. That's 3" longer than the .22 barrel you have now.
Barrel can also be cut to whatever length you want.
Available with, or without a steel breech.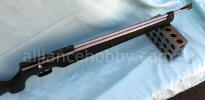 This was a gun I built for a customer that included a steel breech, polished barrel and polished tube.