The Crosman 362 comes with the 2260 trigger pack with an upgraded metal frame (the little trigger cover is still plastic though (maybe changing summer 2023, we'll see)).

While this is nice from a rigidity standpoint, it does not come from the factory with the two holes drilled and tapped for use with my Adjustable Brass Trigger.

Well, it does now. I drill and tap the holes here in the shop.

And, you can add the Adjustable Brass Trigger upgrade here. A complete kit is available below, too.

362 owners: I accept core returns on this listing. If you send me your existing 362 metal frame (JUST the metal frame), I will refund you $10.

Related Kits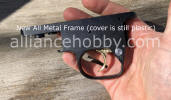 Photos show the Brass Trigger installed. You will receive the plastic trigger, unless you order the Brass upgrade.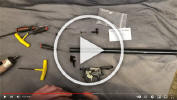 Install Video