This listing includes all the internal parts of the trigger assembly (trigger, transfer bar, sear, dowel pins, spring, etc) and the screws to fasten it to the main tube. This is listed as a drop-in replacement for your rifle requiring no extra parts.

NEW FEB 2023: The trigger frame is now available in steel! The little cover is still plastic, but that may change summer 2023. The frame does not come from the factory with the adjustable screws for the Adjustable Brass Trigger, but I drill and tap them here in the shop. This listing includes the OEM Plastic Trigger with no adjustment screws. You can, however add that to your order.

Related Kits




Aluminum Shiny Safety Now Available.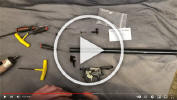 Brass Trigger Install Video