For the Crosman 2240, 2250, 2300S, 2300T, 2300KT, 2400KT, 1322, 1377,P1322, P1377, SSP 250, Marauder Pistol and others with the standard pistol frame.
Related Kits:
Now made right here in Ohio (no more Chinese knockoffs), I have gorgeous pistol grips and a new and improved Fatty Forearm.
As before, the grips themselves are compatible with the standard Crosman trigger frame. So they'll fit the 2240, 2250 (2250 forearm coming soon), 2300S, 2300T, 1377, 1322, P1377, P1322, Marauder Pistol, and many others.
The Fatty Forearm fits the 1377 / 1322 / P1377 / P1322 and 2289.
The grips are available with, or without, the thumb depression and the finger flutes. The Fatty is available with, or without, the flutes. Other designs on the way, too. Tell me what you want to see.
As mentioned before, these are natural wood with varying grain patterns. No two grips will be the same (the milling is the same, they're the exact same shape, but the grains and shades will vary).
Currently available species:
Trigger Grips: Mahogany, Hickory, Purple Heart, Cherry, Walnut, Ambrosia Maple, Pine, Red Oak, Poplar, Zebrawood
Fatty: Hickory, Walnut, Cherry, Pine, Red Oak, Poplar
I can add a coat of Boiled Linseed Oil to the grips to bring out the warmth and grain of the wood. You can optionally topcoat these, if you want.
| | |
| --- | --- |
| Pine | Cheap, light-colored, sort of plain with an open grain, but easy to work. Sands to a pretty result. Has a stigma associated with it, because "um, it's pine" but I do like it. |
| Poplar | A bit darker and heavier than Pine with an attractive grain. Machines well to an excellent finish. |
| Red Oak | Heavy and tightly grained. A pleasure to machine and finish. I couldn't believe how attractive my grips came out. |
| Cedar | Very pretty end result, but way too light and fragile. I made the one pair down in the photos, and it's for sale, but I probably won't make any others unless I get a specific request. It's up to you guys. |
| Mahogany | Tightly grained with a gorgeous, rich brown finish. Name is always associated with luxury. |
| Hickory | Heavy with a beautiful pattern. It may be my personal favorite. |
| Purple Heart | Wildly flamboyant and attractive. Yes, it really is that purple. Google around for other woodworking projects made with it. |
| Cherry | Lighter colors with a beautiful grain pattern. |
| Walnut | Dark and handsome. Like me. |
| Ambrosia Maple | A light colored wood with striking dark contrast. Seems difficult to sand without woolies (fuzziness). I need to practice more with this species. But, it's very, very pretty. |
| Maple | Similar to Cherry. Photos coming soon. |
| Zebrawood | A premium, exotic hardwood with unbelievable grain. |


Six species + aluminum. Yeah, that's right, Aluminum.
Pine, Oak & Poplar photos are at the bottom of this page.
---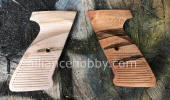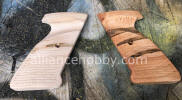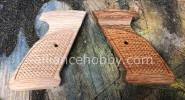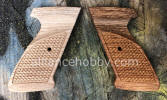 Uncoated vs Boiled Linseed Oil
First two: Ambrosia Maple, Second two: Red Oak, Last one: Walnut
---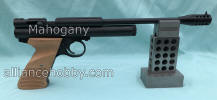 Mahogany
---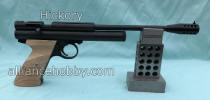 Hickory
---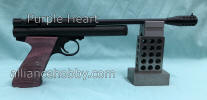 Purple Heart
---
---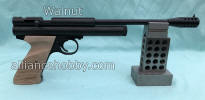 Walnut
---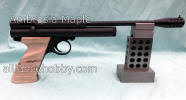 Ambrosia Maple
---

Red Oak
Honestly, the photos don't do them justice.
That striking grain pattern looks so much better in person.
---


Poplar
This was just coincidence that the darker grain is where the flutes are.
Your grips may be grained differently. I'll have better photos of Poplar soon.
---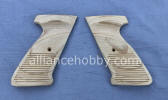 Cedar
Very attractive, but also extremely light and fragile. You have been warned.
---

Pine

pine fatty, displaying the tapered front and finger holds

the big benefit to the fatty are the finger-holds that makes cocking so much easier

close-ups of the pine grips, showing thumb depression and flutes (both optional)
---

Shows a simpler grip, without flutes. Thumb depression is also optional.