This page is online for reference and posterity only. They haven't been available in a decade. Click the link below.

OLD DESIGN - NEW LISTING HERE
These grips are straight-up amazing and that is my personal opinion. These are the nicest wooden grips I've ever seen.
Solid (not hollowed out like the plastic grips), fatter, heavier, nicer in every way.
High gloss finish over solid walnut or maple stock.
Precision CNC machine produced. Extremely tight tolerances and fitting.
Includes one set of brass and one set of stainless steel screws with purchase.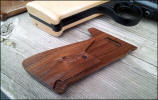 Walnut on the left (darker wood), Maple on the right (lighter wood)
OLD DESIGN - NEW LISTING HERE
OLD DESIGN - NEW LISTING HERE
OLD DESIGN - NEW LISTING HERE
OLD DESIGN - NEW LISTING HERE