I offer various Crosman valves.

I have the standard brass valve that ships with and is compatible with the 2240, 2250, 2250B, Ratcatcher, 2260 (and their .177 variants).

I have a power valve for those same guns (more velocity and power per shot due to an enlarged air reservoir). Caution! Also uses more CO2 per shot. You may have heard these called BOSS Valves. I simply call them Power Valves.

All the Power Mods can be found here, too.

And I also have the 13xx aluminum valves that ship in the 1377, 1322, 2289, etc.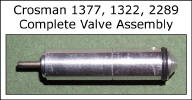 2240 Standard & Power Valves. Right photo is the standard pumper valve.