Original Shorty Breech Kit ("hidden" screw) is here.

Original Shorty Two Screw Breech Kit ("hidden" screw) is here.

The original Shorty Steel Breech kit is the "hidden screw" variety, which means the screw by the bolt is hidden. While desirable, it's not compatible on the pumpers like the 1377 and 1322.

This listing, the Shorty "Normal Screw", provides the unique look of the shorter breech (not to mention it's lighter), but the screw position is up front, exposed, so it's compatible with ALL models, including the 1377 and 1322.

These breeches are made of solid steel and provide strength, durability and accuracy over their plastic counterparts.

Best of all, however, is the addition of factory-milled 3/8" dovetails, which allow the installation of any scope with 3/8" dovetail rings.

If you feel uncomfortable performing the upgrade, I will perform the upgrade for free, providing you pay for shipping both ways.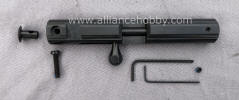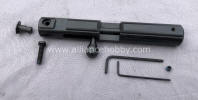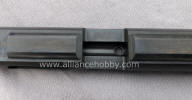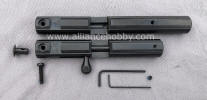 Photo on the right shows the difference in length between the Standard and Shorty Breech.



These two stock photos demonstrate both the "hidden" and "normal" screw locations, and the tubes that can support either.
This listing, again, is for a Shorty Breech with the "normal" location screw, so it's compatible on the pumpers that DON'T support "hidden" breeches.
RELATED KITS