THESE REASONABLY PRICED LW BARRELS HAVE BEEN UNAVAILABLE SINCE COVID STARTED.
POST REMAINS UP FOR POSTERITY.

I CAN ORDER THEM STRAIGHT FROM LW AND MACHINE THEM FOR CROSMAN BREECHES, BUT THE COST IS PROHIBITIVE.

EMAIL ME IF THIS INTERESTS YOU, THOUGH.

Everyone wants a longer barrel on their pumper, but unlike the CO2 guns it's *not* just a barrel swap.

Normal Crosman barrel Big Boy Kits are here.

You need the longer barrel, the 2289 band kit and front sight. And you have to press out the roll pin up front.

Pressing it out is much easier than pressing it in, so I've included a shoulder bolt or clevis upgrade that makes the entire job easier.

This kit includes premium Lothar Walther barrels instead of Crosman-manufactured units. The max available length for a LW is 14.5" right now.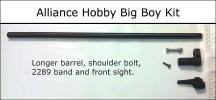 Left photo shows you what you get, right photo shows you what it looks like (doesn't show the shoulder bolt, though).