The Power Adjusters for the Pump Guns are located here.
The Power Adjuster Kit will fit the Crosman 2240, 2250, 2260, 2300 and 2400 models. It will not fit any other model. It will not fit the pump guns (1377 1322) as the main tube is thinner. I am currently working on machining it down to fit.
As you can see, included is the main body, the adjusting screw, a new spring and the preloader.
The adjuster will allow you to fine tune your velocity and shot count by varying the tension on the hammer spring.
Note that the adjuster will NOT necessarily increase velocity. It's intended goal is to provide CONSISTENT and lower-velocities for MATCH applications.
For increased velocity, you can use stronger springs with this, as long as they'll fit over the preloader.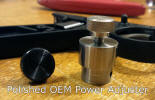 Any of the power adjusters can be fully polished, as shown above.
Related Kits: