This listing combines two of my most popular kits into yet another combination pack.

It is the Max Flow Bushing, the Power Spring and a replacement exhaust sleeve (130-036).

It combines the Pumper's Pack with a sleeve, or looked another way, combines the Max Flow Bushing Kit with a Power Spring... same difference, same end result.

It consists of my world famous High Performance Hammer Spring and equally power-inducing Max Flow Transfer Port Bushing. And also a 130-036 sleeve.

The power spring is longer and stronger than the OEM spring, offering more hammer striking force against the valve.

The Max Flow Bushing has been opened up with a .161" ream, to allow more exhaust airflow. Better breathing, better velocity. Guaranteed.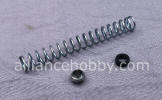 This is the Triple Pack. What you will receive in the mail.