For many people, installing the Crosman Steel Breech kit is a no-brainer. However, some folks do it to mount a scope. Others simply want the rigidity and weight of the steel kit, yet want to continue running iron sights. There is only one solid sight choice for the Crosman steel breech kit and that is the LPA MIM sight.

Thus, this listing is for a complete Crosman Steel Breech Kit + LPA MIM sight in a combo package, available at a discount vs purchasing separately (a $20 savings).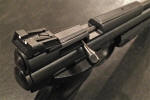 Includes breech, bolt, tools, required screws, LPA sight and it's required tools.