Benjamin & AirForce
90 durometer o-rings for the Benjamin and Airforce PCP Hand Pump
Rebuilding the pump is fairly easy and can be tackled by anyone with basic tools.
Instructions are available at Sun Optic's website (the mfg of both pumps):
Video tutorials are available on all the common sites.
Unlike other sellers, my parcels will always have a tracking number.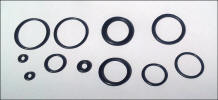 Hill MK3 / MK4
Service seal kit for the Hill MK3 hand pump.
Regular maintenance is essential for keeping your Hill hand pump in proper working condition.
Includes micron filter, piston seal and all other exchangeable seals.
The MK3 hand pump has 3 rings on the top and bottom of the pump body tube.
Full service seal kit
For Hill MK3 hand pumps
Includes micron filter, 7 seals and other misc. replacement parts