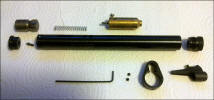 This listing will allow you to convert your 1377, 1322 pumper into a modded 2240.

The listing includes the main tube + internals, band kit and front sight. The sight has been slightly drilled out to accommodate the slightly different 13xx bbl's.

All parts are new, genuine Crosman.

The resulting gun will be a Crosman 2240 but with 10" barrel instead of the 2240's 7.5" barrel. It will look similar to the Crosman 2300T.