STEEL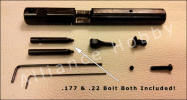 This listing is for a Crosman Steel Breech kit with BOTH .177 and .22 bolts included.
This allows you (with additional, separate barrels) to swap calibers at your convenience.
This breech kit features the front breech screw in the front "normal" location for maximum compatibility with most Crosman models, including: 2240 2250 2260 1322 1377 2289 (and their less common cousins, the 1740 1750 1760 1789, etc).
For those buyers that had the SLIDING BREECH COVER design on their Crosman product, note that this breech *may* fit, but you will still have to use the rear cocking knob to cock the model. Additionally, a new barrel, TP bushing and TP sleeve are required.
As such, EMAIL ME FIRST with questions or concerns.
These breeches are made of solid steel and provide strength, durability and accuracy over their plastic counterparts.
Best of all, however, is the addition of factory-milled 3/8" dovetails, which allow the installation of any scope with 3/8" dovetail rings.
They include everything you see in the photos and that is everything you need to perform the installation. It is designed as a drop-in upgrade, providing you have a complete, functioning model to start with.
If you feel uncomfortable performing the upgrade, I will perform the upgrade for free, providing you pay for shipping both ways.