These muzzle brakes are 7075 aluminum (brass coming soon). They are for the Crosman 1077 and 2100/2200.

They do not suppress or silence; they are for cosmetic use only.

The integral front sight on these guns acts as a barrel support. To install the brake requires removing the front sight.

So, also included (not pictured) is a ground down front sight that acts as a barrel support only. The brake then slides onto the shroud and is held in place with a set screw.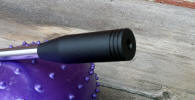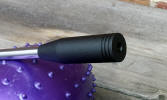 These photos show the brakes powdered in Black Wrinkle. Dozens of colors are available.