I'm proud to present 26" barrels in .22 cal (.177 coming soon) for the entire 22xx and 13xx line that I support.

Pump Gun mods (13xx) will also require the 2289 Barrel Band Kit and you'd probably want a front sight, too.

These are coming in two flavors.

One has a flat spot on the top-center about halfway down the barrel. This is for a support set screw on the guns they came off of. This barrel also has the flat spot for the friction-fit front sight.

The other barrel does NOT have either flat spot. The muzzle is knurled to accept the friction fit front sight.

For what it's worth, I'm probably only going to sell the knurled option after the flat-spot option sells out. But for now, I have both available.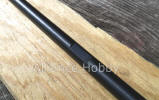 26" long, flat spot halfway down, then flat spot for front sight.