Benjamin Marauder Rifle Baffle + Spring Kit

I have the complete 7-piece Marauder Rifle (not pistol!) Baffle Kit. I also include the spring (or spring-only) as an option.

These are the baffles off the Gen 2 Marauder, though as I understand it, the kit is cross-compatible with all generations of Marauders. If I'm wrong here, someone please let me know.

Baffle Kit Options
FREE USA Shipping

Baffle Kit Options
$5 International Shipping
Crosman & Benjamin Degassers - Degassing Tool
For Marauder Pistol, Marauder Rifle, Discovery, Maximus & Challenger Rifles
I have all three Degassing Tools available.

The Marauder Rifle degasser fits only the Mrod.

The Marauder Pistol degasser firts only the Prod.

The Discovery degasser fits the Disco, Maximus and Crosman Challenger Rifles.

They are otherwise NOT interchangeable.
THEY'RE BACK!!! SOLID WOOD GRIPS
Black Walnut - CNC Precision Milled
for Crosman 2240, 2250, 1322, 1377, Etc

For Crosman 2240, 2250, 2300S, 2300T, 2300KT, 2400KT, 1322, 1377, P1322, P1377, SSP 250, Marauder Pistol and others with the standard pistol frame.

I now have in stock a large inventory of Solid Wood Black Walnut Grips. These are the trigger frame grips only. I am still working on the forearms for the 13xx, etc. The trigger frame grips will fit, but the forearms are still in progress. As often mentioned, these are natural wood with varying grain patterns. No two grips will be the same (the milling is the same, they're the exact same shape, but the grains and shades will vary).

These grips are professionally milled with fantastic fitment and checkering.

Two styles available - Slim and Full.

The slim grips are an exact replica of the 2240 plastic grips.

The full grips extend over the safety, as shown.

You have your choice of unstained or stained plus semi-gloss polyurethane topcoat (all the photos below show the semi-gloss poly). If you don't want the poly, please let me know.

I have three stains in stock - Red Oak, Black Cherry and Weathered Gray. Not much of a difference between the Oak and Cherry stains. The gray is surprisingly nice. I bought it on a whim, but it turned out great. If you want a stain not listed, let me know and I'll get it for you.

All grips include stainless steel screws, too.


Red Oak Stained Grips with Polyurethane Top Coat


Weathered Gray Grips + Poly Top Coat


Black Cherry Grips + Poly Top Coat


Unstained Full Style with Slim Comparison

Unstained Black Walnut Solid Wood Grips
$44.99
Free USA or $5 International Shipping

Add Stain Here (optional)
Aluminum Flat Top Valve & Piston Kit
For Crosman 1322 1377 2289 P1322 P1377
The Flat Top upgrades are immensely popular with Crosman pumper enthusiasts. The idea is that by giving the gun a larger air reservoir, you can do more work per pump, resulting in the same shot velocity with FEWER pumps. Or, increase velocity with the same number of pumps over OEM.
You can buy just the Flat Top Valve, just the Piston or the Complete Kit.
Note that you should not install just a Flat Piston with an OEM valve. The gun won't cock completely and will be useless.
You can, however, install just the Valve.
But the smart move is to install the complete kit.
The Flat Top Valve is an OEM Crosman valve that has been heavily modified.
First, we put it on the mill and angle the exhaust so the escaping air doesn't have to make a hard bend.
After that, we straighten up the exhaust hole with a nice six-fluted bit.
Then, we flatten the face to allow more air to be pressurized per pump.
Finally, we remove as many machining marks as we can to make a perfectly smooth exterior.
And, of course, the valve is cleaned and polished prior to reassembly with BRAND NEW o-rings.
This is the Flat Top Piston. It is 6061 aluminum milled from scratch.
And here is the complete kit.
No-Seam (Deseamed) Barrel Bands
For Crosman 2240, 2250, 2260 & Benjamin Discovery
The OEM barrel bands have an ugly seam running down the middle of them thanks to the manufacturing process.

I work the bands until they're seamless and then powder coat them. Powdering is recommend over bluing to hide any residual machining marks. Flat Black looks great, but any powder will do.

The "Vein" (Copper and Silver Vein) are even better because they have such thick texture.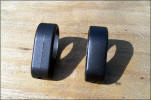 Seamless Flat Black & Seamless Silver Sparkle
(Flat Black Ships By Default)
Crosman 1077 Valve Parts

Crosman 1077 Valve - 1077B027

This is the aluminum 1077 Valve. It comprises all the "7" part numbers in the photographed schematic. The whole PN is 1077B027.

These are either brand new from the factory or brand new from parted out, unused 1077's.

Crosman 1077 Plug Valve - 1077-036

This is the brass 1077 plug. It comprises all the "32" part numbers in the photographed schematic. The whole PN is 1077-036

These are either brand new from the factory or brand new from parted out, unused 1077's.

Crosman 1077 Transfer Tube - 1077A016

These are either brand new from the factory or brand new from parted out, unused 1077's.

Crosman 1077 Parts
FREE USA Shipping

Crosman 1077 Parts
$5 International Shipping
Crosman SSP-250 Rebuild Kit
All parts are genuine OEM Crosman. Kit includes:

Valve stem
Valve Filter
Breech Sleeve
Powerlet Face Seal
Powerlet Piercing Pin
.22 Loader Insert (.177 and .20 inserts are NOT available)
Crosman 766 Rebuild Kit
Standard rebuild kit for the Crosman 766. Includes all valve components, sleeve and pump cup.

Crosman 766 Rebuild Kit
UPDATED! Two Stage Trigger System
Now Fully Compatible With More Models
I have updated the Two Stage Trigger Kit to work with more models with less fuss. Check it out!
CUSTOM Steel Breech Kit with THREE Set Screws
For Crosman 2240, 2250, 2260, 1377, 1322, P1377, P1322, 2289

The Crosman Steel Breech is a hugely popular modification, however its biggest disappointment is the fact that it only has one set screw for the barrel. Most of us that produce aftermarket breeches machine two set screws to securely hold that barrel in place.

Alliance Hobby is proud to present another exclusive product. This is a Crosman Steel Breech Kit with THREE set screws. Two would have looked funky with the OEM screw placement, so we went with three. That barrel is going NOWHERE.

You have your option of .177 cal, .22 cal or Multi Cal (both bolt calibers included so you can swap as you see fit).

You will receive everything in the photo PLUS three stainless set screws that are chrome-like and shiny. The barrel & sight are not included and shown for illustrative purposes only.

Here is a Copper Vein 3-Screw Steel Breech mod, with Stainless Steel Bolt.
These are optional upgrades. What you will receive normally is displayed in the top photos.

In the background is a Copper Vein 2250 Main Tube.

FREE USA Shipping

$15 International Shipping
Paintball / PCP Nipples

These are the quick connect nipples commonly used in paintball applications and also on PCP airguns such as the Crosman Benjamin Marauder & Discovery. Available are the standard male, inner thread male and female fittings. All feature 1/8" NPT threads.

FREE USA Shipping
$5 International Shipping
Stainless Steel Clevis Pin Upgrade for
Crosman 1322 1377 P1322 P1377 2289
Replace that Roll Pin - 130-030

This listing is for a stainless steel clevis pin, a roll pin replacement for the Crosman 1377 1322 P1377 P1322 2289.

Working on these pump guns is a pain in the neck as you always have to drive out, and drive back in, that annoying roll pin.

I have offered a nice Shoulder Bolt solution for some time now, but decided to offer this clevis pin idea, too.

The pins are offered in both a long and short version. I have removed a bit of the material in the "short" version to make a more streamlined look.

That's the only difference. It's only about 1mm on each side. The long version looks more substantial, the short version looks streamlined. Buyer's choice.

Both the pin and rings are included. Replacement rings are available, if needed.

Also available is a 3/16" drill bit. The bit is not needed. You can force the pin through the main tube, but cleaning the hole with the bit does make the job a bit easier.

Also, for full disclosure, I did take a bit of sandpaper to the very tip of the P1322 plastic pump arm in the photos. Makes for a cleaner look.

FREE USA Shipping

$5 International Shipping
NEW! Power Adjuster for Crosman
P1322 P1377 1322 1377 2289

Alliance Hobby is pleased to introduce a steel power adjuster for the Crosman models listed above.

Previously unavailable on everything except CO2 guns, we now bring you a well-machined option for your Crosman pumper!

The adjuster body is steel, available blued (shown) or with a polished mirror-shine finish
(photos coming soon, but resemble my polished barrels look).

Your thumb wheel is available as OEM plastic, brass or stainless steel (those photos coming soon).


Any of the power adjusters can be fully polished, as shown above.

13xx Power Adjuster
Free USA Shipping

13xx Power Adjuster
International Shipping

Polish Power Adjuster for Mirror Like Shine
$5

Polish Power Adjuster for Mirror Like Shine
$5
The Alliance Hobby Big Boy Kit
The quick, easy and complete barrel upgrade for 1322, 1377, P1322 or P1377.

Everyone wants a longer barrel on their pumper, but unlike the CO2 guns it's *not* just a barrel swap.

You need the longer barrel, the 2289 band kit and front sight. And you have to press out the roll pin up front.

Pressing it out is much easier than pressing it in, so I've included a shoulder bolt upgrade that makes the entire job easy peasey.
Crosman 14" .177 Barrel

I am now offering rifled 14" .177 barrels for the various Crosman lines. Barrel has OD of 7/16" (11.1125mm).

This barrel will fit the 2240 1322 1377 2250 2289 P1322 P1377.

14" .177 has never been offered by Crosman or anyone else, so I am now taking 24" .177 barrels and cutting them down to 14". I am then facing and crowning the muzzle for a nice, accurate shot. Furthermore, I am milling the proper "flat spot" on the top of the barrel for the plastic front sights. The photos show the bare steel finish, but the muzzle will be reblued to a nearly perfect match.

If you're swapping calibers from .22, you'll need the .177 bolt, too.

If you want to put them on a pumper (1322 1377), you'll need the 2289 band kit, new front sight and roll pin.

Both of those options are available above. You can, of course, buy the barrel only.