April 2014
***Tank adapters are for sale again!***
Alliance Hobby Powerlet to Paintball Tank Conversion Kits
For Crosman 1077, 2240, 2250, 2260, 2300 Series & 2400 Series
Manufactured right here, in Alliance, Ohio.
Stop wasting your money on expensive 12g Powerlets!
Switch to economical and refillable paintball tanks in a variety of sizes.
Live in an area where CO2 fill stations are unavailable? 88g AirSource adapters are available, as well.
Enjoy more power and more velocity from a larger CO2 reservoir.
Spend more time shooting and less time changing out Powerlets.

1077 Hard Mount Options - Email me for details.
Want more information? Please go to the Adapters Main Page for full details!
Coming soon! Modular adapters! Own more than one gun? Use one adapter on them all!
Also coming soon! 2250 Hard Mount options...
---
Crosman 2240 1322 1377 Stainless Steel Torx Screw Kit
Also Available: Brass Kits, OEM Kits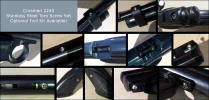 This listing is for a COMPLETE stainless steel screw set for the Crosman 2240, 1322, 1377.

Unlike other listings, Alliance Hobby offers every screw in stainless. Most screws are Torx, with a couple Phillips, due to availability.

Also, I know you may have a steel, aluminum or plastic breech. All require different quantities of fasteners. Alliance Hobby includes more than you'll need, so you'll always be covered.
---
Kit Contains: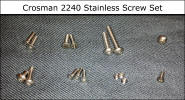 Front & Rear Grip Frame Screws: T15 Torx
Rear Breech Screw (Steel, Aluminum or Plastic): T15 Torx
Front Breech Screw: #1 Phillips
Grip Handles: T10 Torx -or- Phillips (included free!)
Trigger Cover: T8 Torx
Valve Retention Screw: #1 Phillips (excluded on 13xx)
Barrel Band & SB Set Screw: 5/64" Hex
13xx: Stainless Roll Pin, too!
---

Also available is an economical, but fully functional precision tool kit, which contains bits for every fastener on the model.
If you don't have access to Torx (especially T8), you may consider adding this to your purchase.
Stainless Torx Kit
Free USA Shipping

Stainless Torx Kit
International Shipping

Alliance Hobby Pumper's Pack
For 1322 1377 2289 (and 2240 2250 2260)

This listing contains two of my most popular products, combined and at a discount.

I'm calling this the Pumper's Pack as it's a great addition to your Crosman 1322 1377 or 2289 Pumper.

It's also fully compatible with the 2240 2250 & 2260.

It consists of my world famous High Performance Hammer Spring and equally power-inducing Max Flow Transfer Port Bushing.

The power spring is longer and stronger than the OEM spring, offering more striking force against your model's hammer, increasing velocity.

Likewise, the Max Flow Bushing has been opened up, to allow more exhaust airflow. Better breathing, better velocity. Guaranteed.

Alliance Hobby Pumper's Pack
$24.99
Free USA Shipping

Alliance Hobby Pumper's Pack
$24.99
International Shipping