I offer many Crosman main (gas) tubes, either with or without the internals (valve, hammer, etc). Some marked, some completely smooth.

I have the pumper P1322 and P1377 (exact same as 1322 and 1377) and CO2 2240, 2250 and 2260 sizes. Further, I have the 2300T and 2250XE tubes, which are UNSTAMPED, smooth tubes. The 2300T is a smooth version of the 2240 and the 2250XE is the smooth version of the 2250. I don't have any smooth 2260 tubes* (actually, I do, see below).

By smooth, I mean that the entire tube is void of any factory engraving. While there is LASER etching on the tube, this can be polished off or powder coated, resulting in a perfectly clean tube.

STOP!!! READ!!! Crosman has discontinued the unmarked 2250XE Main Tube. Until I start milling my own main tubes (early to mid 2017), here's what I can do for you:

STOP!!! READ!!! I can take a 2250 MT and fill in the lettering with metal filler. I can then sand, paint, sand and paint the tube until it's completely unmarked. I can use any color spray paint, though flat black looks nicest. It could not be powder coated or blued as the filler won't bond to the powder or bluing and it would melt in the oven anyhow. So paint is your only choice there. I've done it several times before and they look great, but it's still just spray paint.

STOP!!! READ!!! I can do the same thing to the pumper and 2260 main tubes, too. 2240 tubes are still available from the factory completely unmarked as 2300T tubes.

The tubes for sale without the internals is just the tube ONLY. No hammer cap, no piercing them.

The tubes available with internals includes hammer cap, hammer spring, hammer, valve and piercing stem, too.

These are all Copper Vein Main Tubes


2300T Main Tube + HiPac in Copper Vein


2300T Main Tube + HiPac in Copper Vein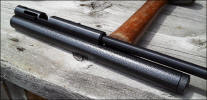 2250XE Main Tube + Both Covers in Silver Vein